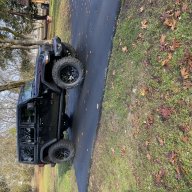 Senior VIP Member
10+ year member
I have most of my equipment, so I figured I would post and see what you guys think.

vehicle = 2021 Jeep Wrangler Unlimited Rubicon

Head Unit - Stinger Heigh10

Hertz 87.3s up in the dash (will be powered by head unit power only 25 watts rms.

Polk DB 652s in Metra pods for the knee panels

Polk DB 652s in the soundbar with SSV works brackets

FI Q 12" in ported enclosure rear cargo area.

US acoustics Barbara Ann amp running 100 watts to each of the polks.

Teramps 3000.1 running the FI.

I may be installing sound deadener inside the soundbar and maybe the Metra pods for the knee panels. Not sure yet.

let me know your thoughts, suggestions etc.

Thanks.