Last post got long & off topic, so starting fresh with a design to run with. Since I value my cargo space, I decided I can come up with the most space if I go with a wide, shallow upfiring design with an aero port facing the rear. This will let me throw a grill over the sub to stack gear on top. I've gone ahead & done a rough design in sketchup, but I still need to figure out port size & its displacement once said & done.
Is there any downfall to having a shallow enclosure ported like this?
Vehicle : 09 mazda 3
Location in the vehicle: behind rear seats, flat on hatch floor
Space available (Length x Width x Height):
Length 20

width 25

height 10

Subwoofer make and model: Alpine SWS-12d4
qms - 9.43

qes .6

qts .57

fs 34hz

xmax 15mm

Subwoofer Size: 12
Number of Subwoofers: 1
Type of Port (Kerfed, Slot, Aero, etc.): Aero preferred I think, open to suggestion
What type of music do you like?: All styles of electronic - from deep extended low notes, drum & bass, electro/dubstep, & chilled instrunmentals.
Is your goal SPL or Everyday Music?: Everyday music
Tuning Freq (Hz): 32-35? I want to get low but not at the expense of responsiveness & SQ (old pre fab ported sounded muddy)
Volume : Factory recommended is 1.67ft gross 1.4ft^3 net. Proposed design should be around 2.2+ gross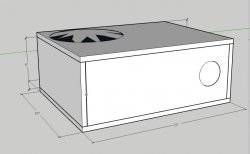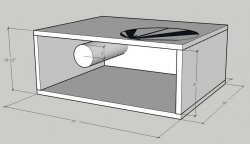 Last edited by a moderator: