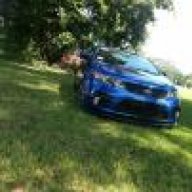 That's a KIA!?
10+ year member
They did the best job on my box that I don't think could have come from any where else.
I bought my RF P3's and Power amp from NC Sound & Security in Goldsboro, NC because they were the only other retailer near by that sold RF. Speaker Works sold mostly Memphis and JL but I knew I wanted my box done by them for quality work. So I went by with my car and set up to let the guys up there see what I had and know what my idea was. John (he did most of the work with me and my car) gave me some ideas for my trunk and came up with a good picture of how it should fit in there.
I told him that I wanted the front piece to be red since my car is Sangria Red. After a few more sessions of me stopping in and throwing some ideas out we got a date set for starting the box. It took roughly around 4 1/2 - 5 weeks for my box to get completed and installed. I'd walk in every few or so days to check on how they were coming and of course, John would let me know exactly where he's at on it and give me a detailed description of what he's done to it from the last time I came in.
It did take slightly longer than expected to get it done. I understand that he was running into some other problems with it and of course, like all audio retailer/installers) he had to make time for other work for walk-in customers as well. He did most of the work on my box after closing hours so he wasn't distracted too much and get what he needed to get done.
The box had a few transformations and other recommendations midway during the process, but for all the better. In the final product it was exceptional in every way. I couldn't have asked for anything better than what he did. You can't do the work he did and not have it look awesome.
It's not the last time he'll be seeing my car, though. I've still got some speakers, a head unit, lights, etc. left for them to put in for me. All I'm saying is that Speaker Works does some **** good quality work for their customers and are extremely knowledgeable on anything car audio. I'm recommending Speaker Works to anybody that wants any kind of audio work done.
Thanks, Speaker Works.
Disclaimer:
Speaker Works did not pay me for this post. Nor do they have any prior knowledge of me writing this.