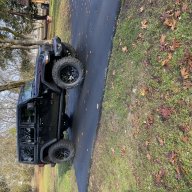 Senior VIP Member
10+ year member
On my previous Jeep I ran the 0 awg down the wheel well and along the frame, back to the rear cargo area. Problem was, I used plastic sheeting and the exhaust started melting it. I even made sure to zip tie the sheathing away from the pipe, but it still got hot enough. Luckily it was minor and I found it in time.

my current Jeep has the turbo and runs a bit hotter inside the engine compartment.

what do you guys use to prevent this?

I am looking at heat shield insulated wire wrap and hope I'm headed in the right direction.