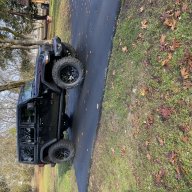 Senior VIP Member
10+ year member
We are looking at getting a new Bronco Sport soon and I am wondering if anyone on here has seen or done any installs/mods on one.

my idea is to simply swap the front door speakers out with some Hertz or Polks, and run them off of stock deck power.

then add an 8 or 10 somewhere out of the way.

she is a home health care nurse and works out of her car ever day. So, I would like to keep the cargo space open as much as possible for her.

she also does not need anything crazy for loudness or bass.
So, maybe something around $500 ish.
I may decide to use my existing Taramps md3000.1 to run her sub. Which will be way overboard for any lower end sub, but it will give me an excuse to get the sia for my FI. Shoot!! I might even get lucky, now that I think of it.