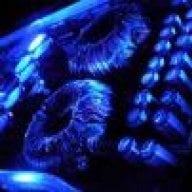 CarAudio.com Veteran
5,000+ posts
10+ year member
sooooooooooooooooo, as some of you may remember, i bought a 7inch lcd for my passenger side visor. that plastic case didnt hold up so well and busted due to the vibrations. then i took all teh perfect circuit boards and made a ghetto lil duct tape case and threw it into the glove box....but i wasnt satisfied at all with it there. touchscreens been sold but this is still good for goldeneye and my video ipod. i wanted to make some fiberglass case for it and have it mounted off teh roof in the front middle.....but the vibrationd would still be an issue sincei couldnt anchor it down as good as it would need it, and i havent dabbled with fiberglass yet (soon enough i will).....
so i looked at my dash, and there's a double din space for my shit. i moved my eclipse deck down to the bottom of the 2 spots and moved the lil cubby hole i had to the top. i managed to attach the screen to the cubby and secure of the boards inside the cubby. then with some raammat and some some luck i got the lcd to mount to the cubby, which sticks right into my dash...and thus a 7inch lcd RIGHT above my cd3000. the screen comes down flat and the HU's face is angled, which turned otu pretty good. at worst there's alil shinny deadener visible behind the screen but not bad. for being ghetto as **** it turned out lookin halfway decent. my phone is smoking crack and only sent 2 ics before it wigged out. but here are those 2.
looks pretty sweet, the cd3000's angle compliments the screen. the actual screen lines upw ith the eck perfectly, and over to the driver side the panal with the buttons you think would make it all look off, but wiht the screen lined up it;s kosher.... and now i have what seems to be a 2.5din face area right there. even though it doesnt fold into anything, it's close enough to the dash behind it that it's barely visable from the front winshield, and even less visable in the side windows with the tint (at night you cant even see it, the black plastic face blends wiht the night).
not bad for jut a few slivers of deadening and some creativity