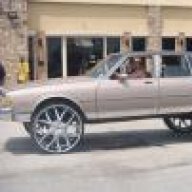 CarAudio.com Elite
10+ year member
haha see i love how someone comes in sayin im riding ****, i could give a shit about what you think of me.. all im saying is from what i heard the subs doing i was impressed, none the less if i dont get the deal i want i will not be running them anyway

im still going over final pricing of everything to be done to my truck and then will decide if im going that route or not

i ride no ones **** buddie, get your facts straight, its people like you that annoy me, just cuz i put in good words FROM WHAT IVE SEEN OR HEARD doesnt mean im riding ****. i havent seen the shitty jobs or heard anyone while i was there claiming crazy numbers or any of the shit you guys have talked about. from my personal experience around the guys over there now i got a good vibe. but you never know i could be wrong, which is the reason why im not diving in and buying everything yet.