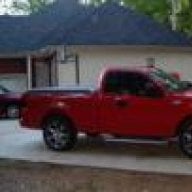 CarAudio.com Elite
10+ year member
This past December I bought 2 Quantum Audio Cozmik Subwoofers (Links Below) and a QCA2000D Amp from them.
Sub:
http://www.quantumaudio.net/cozmiksubs_qcw12d4.htm
Amp:
http://www.quantumaudio.net/cozmikamp_2000d.htm
When I bought them, I was told that all of their products come with a 1 year warranty. This warranty stated that if I ever had any trouble from the amp or speakers, all I had to do was swing by and they will look over the product free of charge and replace any broken products with a brand new model free of charge. I had them install all of it including new 4awg power and ground wire and speaker wire. Well the weekend before last I left my house to run some errands and found out that my subwoofers would not play any sound. I went back to Megga Maxx last Monday and they wanted a $75 dollar fee to replace the subs and another $35 for running diagnostics on the Sound System. After about 20min of arguing I just told them to put it all back in my truck and ill leave. They wouldn't even give me the keys to my truck until I gave them $10 which was the only cash that I had at the time. When I got home I went to the BBB and looked them up and I unsurprisingly found that they already have 2 complaints on them that they have not answered and have a BBB Score of F. I was wondering if any locals in the area had any similar problems with this shop and I wouldn't recommend this shop to anyone who wanted to have a good product at a good price with a respectable proprietor.
Link to Megga Maxx on BBB:
http://www.bbb.org/atlanta/business-reviews/auto-alarms-and-security-systems/meggamaxx-in-marietta-ga-3002678
Long story short:
They sold me a working product with warranty and 6 months later when my equiptment broke, they failed to honor their warranty.