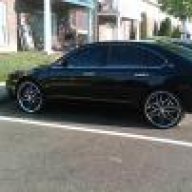 CarAudio.com Veteran
5,000+ posts
Item(s) for Sale:

2 DD3512.S

Item(s) Description/Condition:

BOTH SUBS ARE D4 ALL COILS READ BETWEEN 3.8-3.9. COPPER COILS 1200RMS EACH. ONLY SELLING BC I UPGRADED TO HDC4.S ..THERES A VIDEO ON HERE IF YOU WANT TO SEE THEM IN ACTION..BOTH WERE RECONED PRIOR TO ME GETTING THEM A FEW MONTHS BACK THEY ARE STILL PRETTY TIGHT..IM SURE IM FORGETING ALOT JUST ASK IF YOU WANA KNOW SOMETHIN

NO TRADES

9/10 PHYSICAL NO RUBBER GASKETS

10/10 MECHANICAL

Price:

$400+SHIPPING

NO TRADES

Shipping and Miscellaneous Item Information:

BUYER PAYS

Item Pictures:

(List pictures in this section, 1st picture should be your username/date if you have less than 10 positive feedbacks with the i-Trader system or less than 10 references that you have sold to in the past. (These must be listed in your signature, or a link provided to a feedback thread listing these references)).